 Suppliers of Premium Grade Ready to Burn Firewood, Beautifully Crated and Delivered to Your Door


- New Products Coming Soon -
About our Firewood
Instead of using builders bags to deliver our ready to burn firewood, we believe that our first class product deserves a first class package.
Beautifully stacked inside our 1 cubic metre crates, you are effectively purchasing your own log store as well as the logs. As long as access allows, our pump truck delivery service will allow us to deliver right to your door, meaning the only time you need to handle your logs is when you are taking them to your fire.
Why Kiln Dried?
Our sustainably sourced 'ready to burn' kiln dried Birch Hardwood logs are much drier than naturally seasoned air dried logs.

The drier the firewood, the higher the temperature. Seasoned, partially seasoned or green firewood burns at a correspondingly lower temperature than kiln dried wood. The more moisture in the log, the more likely you are to get tarring and flue problems. Most stove manufacturers recommend the burning of truly seasoned firewood or kiln dried firewood in their stoves.
Why Birch?
Our logs are Silver Birch – grown in the north where the cold temperatures make growth rates much slower and thus the wood has a very tight grain and higher density than faster-growing varieties.

The beauty of birch is that during the kiln drying process it is the most consistent of the hardwoods. This means that when you test for moisture on the outside of the log, it will be exactly the same in the centre of the log, thus giving you a long and consistent, clean burn, unlike say Oak, which is notoriously difficult to kiln dry due to its density.

Birch also burns much hotter than any other type of wood – it has the highest BTU's in its class (British Thermal Unit is a measurement of heat output for a given quantity of firewood).
BTU comparison:

- BIRCH (26 BTU's)
- Oak (24 BTU's)
- Ash (23 BTU's)
- Softwood (14 BTU's)
Crated vs loose or bagged
Many people still believe that you buy firewood by weight. This is a huge mistake as you are paying for water which is considerably cheaper from your tap! Only buy in volume.
Because of the way our crates are hand stacked with no voids you get far more wood in a cubic metre crate than you would in a cubic metre bag or loose on the back of a truck. In fact, one of our neatly stacked cubic metre crates is the equivalent of 1.2 cubic metres of bagged or loose firewood. Our wood is cut to 250mm making it ideal for wood burners, open fires and perfect for your outdoor heating and cooking needs, including pizza ovens, chimineas and fire pits.
About Us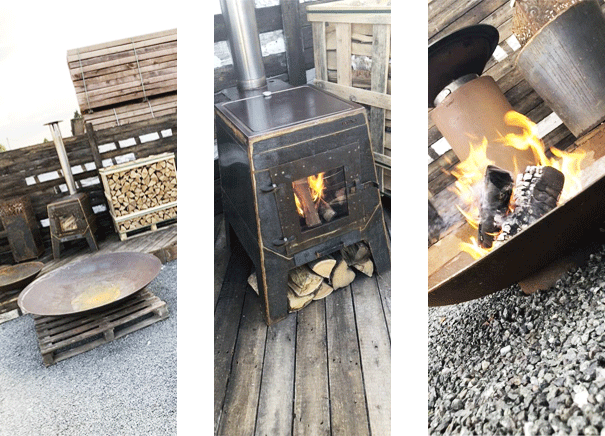 We are a small, family run business based near Ludlow, Shropshire, located within the grounds of our sister company Ludlow Salvage.

Here you are free to view our ready to burn firewood at any time, alongside a variety of Corten Steel fire pits and Barbeques.

Give us a call on: 07949 318014

Eco friendly
Our logs are sourced from sustainable forests

High Quality
We pride ourselves on the quality of our logs
Contact Us
If you are interested in business or have any questions do not hesitate to get in touch! Please use the contact form below for an enquiry:
Ludlow Firewood Ltd. Plot 1, Station Yard, Station Road,
Woofferton, Ludlow,
Shropshire,
SY8 4AW

07949 318014

/ludlowfirewood